Dj Set - House
Sexta, 01 Setembro 2017
ALEX FROM TOKYO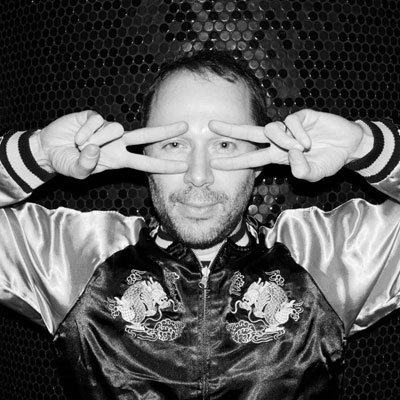 // Nascido em Paris, criado em Tóquio, actualmente a residir em Berlim depois de uma década a viver em Nova Iorque, Alex From Tokyo, dj, produtor e sound designer, é um dos grandes.

"Calling Tokyo home from the age of four, Alex grew up amid the sounds and spectacle of the world's largest city— playing baseball, practicing Kendō (Japanese swordsmanship), and honing an ear for eclectic soundscapes in Shibuya's record stores and at famed underground clubs like the Bank, Another World, and Gold.
Alex returned to his birthplace of Paris in the early 1990s, and formed the unit "A Deep Groove" with DJ Deep and DJ Gregory in 1993. Their now-legendary lunchtime radio show on Radio FG 98.2fm was one of the first to spread the "real underground dance music" sound from the US and put a spotlight on early French deep house artists like St. Germain and Shazz.
Arriving back in Japan in 1995, Alex emerged as the go-to contact for European labels, DJs, and artists seeking a presence in Japan. He worked with Laurent Garnier's F Communications, London's Mr. Bongo and its label Disorient, France's Yellow Productions and its Bossa Tres Jazz project "When East Meets West" (Alex coordinated the Japan side), and recorded mixed CDs for Tokyo's P-Vine, Flavour of Sound, and Flower Records. Alex surfaced as one of the strongest crossover DJs in Japan in the late 1990s, holding a residency at club Yellow in Tokyo and touring all over Asia and the world. "Alex from Tokyo" was born.
Alex has been producing original music as Tokyo Black Star with sound engineer Isao Kumano (Kenichi Takagi joined as an official member in 2015) since the late 1990s. Tokyo Black Star's debut release, a remix of "For You" by Big Moses (feat. Ja'nel), came out on Kerri Chandler's label Basemental in 2000. Tokyo Black Star's "Psyche Dance" EP became the very first release of Berlin label Innervisions in 2005 (Innervisions released four other Tokyo Black Star EPs as well as their debut album "Black Ships" in April 2009). The group has handed down remixes for such legendary artists as Tony Allen, Carl Craig, Phenomenal Handclap Band, Kuniyuki, and Bing Ji Ling, and their track "Kagura" was selected for the Xbox 360 game "Crackdown."
Already nicknamed by his music friends as "world famous," Alex made it his brand name in 2002. The maiden release on Alex's world famous label featured a remastered version of Japanese DJ/producer Dan K's lost deep house classic "Melancholic dub" on the A side and a Tokyo Black Star remix of Japanese acoustic rock artist Breath Mark on the B side. Alex relaunched the label from New York in November 2015 with duo-turned-trio Tokyo Black Star's "Edo Express EP," which they followed with the epic soundtrack album "Fantasy Live 1999" in summer 2016.
Outside the club scene, Alex has been making moves in music coordination, consulting, and production work for international fashion brands (Y-3, Louis Vuitton) and other select clients since the late 1990s, a passion he continues to pursue. Learn more about his sound design work here.
By the early 2000s, Alex from Tokyo was in international demand and eager for new inspirations and challenges. Drawn by New York City—spiritual home of dance and club music—and moved by special encounters with Larry Levan, Francois Kevorkian, David Mancuso, and Daniel Wang, Alex decided to make the Big Apple his home in 2005. He would spend the next decade there, exploring his musical roots and shaking up the NYC scene by adding his own fresh and eclectic touch in clubs like Output, Le Bain, and Nublu and through curations like the UK label Claremont 56's CD series "Originals Volume Ten, compiled by Alex from Tokyo" (2013).
Keen to share their sonic adventures with the world, Alex and Kumano of Tokyo Black Star launched phonon (phonon-inc.com) in 2010, crafting exceptional audio equipment for sound aficionados.
Alex relocated to Berlin—electronic music mecca—in 2017 to start a new chapter in his music life. He still travels regularly to Japan, Asia, and beyond to soak up the sounds and share his "happy funky positive" soundscapes. Alex continues a nineteen-year residency at the Sunday afternoon party "Gallery" at CAY in Aoyama, Tokyo, alongside DJ Nori, Kenji Hasegawa, and Fukuba. From September 2017, Alex from Tokyo kicks off a new residency at The Observatory in Ho Chi Minh City, Vietnam.
The world famous label will be digitally and physically relaunched from Berlin beginning in fall 2017. Be on the lookout for new original music and collaborations by Alex, as well as a Tokyo Black Star live project, in 2018…


https://www.facebook.com/pages/Alex-From-Tokyo
https://www.facebook.com/pages/Tokyo-Black-Star
https://www.facebook.com/worldfamousalexfromtokyo2015
http://www.soundcloud.com/alexfromtokyo/
http://www.soundcloud.com/tokyoblackstar/
https://soundcloud.com/world-famous-alex-from-tokyo/